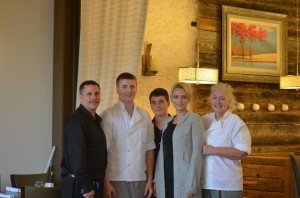 The Birch staff brings fine dining experience to Bristow. Left to right: Steve, Luke and Nick Brown; General Manager Marya Khilkevich and Head Chef Shane Armstrong.[/caption]
By Stacy Shaw 
Bristow Commons is happy to announce the opening of Birch Kitchen & Bar, Bristow's first and only modern farm to table restaurant.
Birch's food is organic, farm-fresh, non-GMO, and in the case of meat and eggs, antibiotic free and grass-fed.
According to general manager Maryia Khilkevich and head-chef Shane Armstrong, the idea behind Birch is two-fold. For guests, Birch offers farm-fresh food at an affordable price. For local farms, it provides sustainable business.
Seventy-five percent of Birch's food comes from farms within a 150-mile radius. Likewise, the restaurant sources craft beers from small independent breweries and wine from local vineyards.
For reasons of health, taste and sustainability, Birch is quickly becoming a favorite spot for foodies and casual diners alike.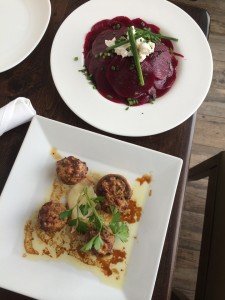 Beet and goat cheese salad and an order of stuffed mushrooms as served at Birch Kitchen & Bar.[/caption]
"We have a lot of customers who became our regulars very quickly," Khilkevich said. "After the second, third day of opening, I have seen the same faces."
She is not surprised. "I think people of tired of fast-food, and people are very concerned about what their kids are eating," she said.
Khilkevich, grew up in Belarus, eating nothing but organic foods. "We don't know what it means by not organic."
She believes organic foods are much more flavorful.
Armstrong agrees, explaining that when restaurants serve fresh organic foods, they can eliminate the additives. When the "right amount of everything" is used butter, sugar and salt become unnecessary.
Armstrong is an experienced chef trained in French noveau style. In the 1980s, she was the head chef at Chez Grand Mere, (Grandmother's House) in Georgetown, and before that, Henry Africa's in Alexandria, Virginia.
Back then, seasonality and regionalism were desired in fine dining. However, since then, regional ingredients were replaced by imported produce.
Recently, there has been a move back to seasonal and fresh foods derived from regional faire. Armstrong is proud to bring that kind of quality dining experience to Birch.
Armstrong describes her food as "simplicity with a modern twist." She said all the ingredients are very simple, "but beautiful when it unfolds in your mouth." Because most dishes are made to order, they can serve a variety of tastes and can cater to special dietary needs.
Armstrong is proud of her artisanal crafted dishes to dishes that are are slow cooked for hours.
"Slow food cooking is movement that you just won't find in other restaurants," Armstrong said, "and very few homemakers are spending their days cooking."
Additionally, Birch does not deep-fry anything; they do not own a deep fryer.
At Birch, the décor follows the same philosophy of farm to table sustainability. Most of the furniture is recycled barn wood true to the principles of sustainability. It also honors the history of Bristoe Station.
Birch is located at 9110 Devlin Road, Bristow, Virginia, 20136. Readers can call 703-468-4630 for a reservation, or visit their website, birchkitchenbar.com.