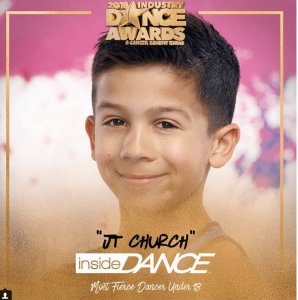 Back in 2016, J.T. Church of Victory Lakes, Bristow won second Place on the 13th Season of So You Think You Can Dance: The Next Generation.
J.T., who is now 12-years-old and living in Arizona, is still achieving in his field.
This week, he has two big announcements he believes his friends and neighbors in Bristow would be excited to learn about.
J.T. was chosen to be one of five young finalists in the category of "The Most Fierce Dancers Under 18!" in the 2018 Industry Dance Awards & Cancer Benefit Show. It is a prestigious dance industry award show, in which industry leaders select the contestants and the public elects the winners.
https://www.youtube.com/watch?v=IunHf5GXmx4
As of 2 p.m., Wednesday, there are only two days and 10 hours remaining to vote in the contest, and J.T.'s mom Leslie Church hopes J.T.'s former community will support him by voting.
You all rallied and voted for JT and he placed runner up on the show [So You Think You Can Dance], a huge feat for an unknown dancer from Virginia! Since then, JT has continued to do great things in dance! We now live in AZ so we are closer to LA for jobs and auditions.

The time has come for me to once again ask for YOUR help! JT has been nominated as a "Most Fierce Dancer Under 18" by the Industry Dance Awards!!! This is SO exciting as all the nominees in this category are AMAZING dancers and it is an honor for JT to just be included in this group!

PLEASE take a moment to go to the link below, scroll down until you see JT's picture/name and VOTE for JT!! It would mean so much to us and to JT too if our Virginia friends would please VOTE - SHARE - and help us spread the word!!! Thank you!!!

Vote for J.T. in "the Most Fierce Dancer Under 18!" 2018 Industry Dance Awards. 
The star-studded award show will take place August 15 at Hollywood's historic Avalon Theater where there will be a red-carpet walk and live dance performances by industry leaders.
To qualify to become a contestant, Church participated in nine national dance competitions and four dance conventions.
https://www.youtube.com/watch?v=o0dPRBQokD0
The second big piece of news is that ABC just announced that J.T. has been chosen to be "pro" on Dancing With the Stars Junior. As a Junior Pro he will be paired with a celebrity kid or the child of a celebrity.
Pros will perform and help their partners who have little to no dance experience. Pros and celebrity kids will also have an adult mentor dancer to help them along.
It will be a busy but exciting year for J.T., and he hopes his friends and neighbors from the Bristow area will continue to watch and support him!
J.T. studied dance at Gainesville Dance Center. He is adept in modern dance, jazz, hip-hop, ballet and tap.