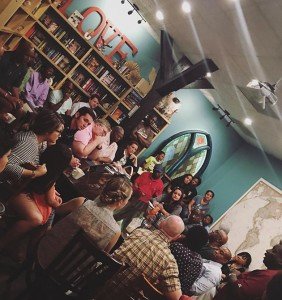 "Community Forum" at Jarani's Coffeehouse in Manassas, July 11, 2016.[/caption]
A second community forum held last Monday at Jirani's Coffeehouse in Old Town Manassas moved the conversation about race and community policing forward.
The discussion follows several national incidents in which black men have been shot dead by police officers and instances in which people have shot officers as a form of protesting against racist policing.
Spurred by Ken Moorman and his wife Detra Moorman, owners of Jirani's Coffeehouse, residents of the City of Manassas met with police to help strengthen bonds between the community and police department, especially the African American and Latino communities.
Panel speakers from the Manassas City Police Department were Chief Doug Keen, Cpt. Tina Laguna and Sgt. Christopher Shields. Other panel members included Attorney Sanford Williams, Pastor Scott Leib of Chapel Springs Church in Bristow and "Arnold" the young man who inspired the conversations at Jirani's.
The community forum built upon issues discussed the previous week while providing more practical information on how residents could best comply with police officers and what systems exist within the department to support community members.
Chief Keen said he requires his officers communicate clearly and respectfully with citizens.
"Most people have zero encounters with law enforcement, [so, I tell my officers] when you have an interaction with someone from the community - that may be the one and only time in their life that they have interaction with law enforcement: What impression are you going to leave them with?"
For reasons of safety, he advised residents to comply with police and treat them respectfully; however, he said it is the police's responsibility to earn the community's trust.
Police asked residents to comply with an officer's request so that a situation does not escalate, requiring the use of force.
"Force will create more force," Keen said. "Be respectful. Arguing your case and trying to prove guilt or innocent on the side of the road is not going to work."
One young man asked police: "How do you expect black people to just comply when people of colored have been targeted for generations?"
Cpt. Laguna, who is African American said she empathized with his concerns about discrimination; however, she explained arguing is not an effective way to communication with an officer.
"I don't like that word compliance either. The word I use is respect. I don't argue on the side of the road. You yell, scream and curse at me, I stop listening to you," she said.
Laguna explained that after an incident a person can lodge a complaint with the police as Manassas City Police take grievances very seriously.
Arnold told police, "Our trust has been broken time and time again," and asked if police officers recognize that.
Police said they have, and they have been working to interact in a way that puts people at ease. They no longer say: "Do you know why I'm stopping you?" Instead, they say, "The reason I am stopping you is…"
Shields shared his uncle was killed by a cop, explaining that he sees both sides of the issue. He said when he first began patrolling in Georgetown South, residents did not fully trust him.
"People didn't trust me because I'm a cop, and possibly because I'm white. That's okay. I have to break that barrier," he said.
Police said they train their officers to not immediately respond with violence, and when necessary to use Tasers rather than guns.
"The minimal standard (for using force) is reasonable and justifiable; we go beyond the standard," Shields said.
One woman shared her concern that many in the deaf community fear officers may not take the time to communicate with them, but use force, especially if the citizen  is black.
Keen said he trains his officers to slow down, stop and think: Does the person understand English? Are they too frightened to comply at this moment?
The officers all agreed that they will not tolerate a racist or bad cop on their force, saying it could get them all killed.
"We can't do anything about what's going on nationally," Shields said, saying he believes that racist cops do exist. However, he said officers do their best to keep Manassas City safe.
"Here in Manassas we're not perfect, but I believe we are better than many places," said Mayor Hal Parrish. "The reason I believe we are better than other places is all of us are here. We are talking to one another."
One woman built upon that statement.
"A lot of us had interactions with police that aren't always good. Some of you may have even complained," one woman said. However, she said the forum has given her hope, and now it's time to "get focused."
However, another woman said she remains skeptical.
"I've heard this really similar rhetoric," she said, " they did comply, and it was not okay. They're dead now."
Police encouraged attendees to speak out about bad interactions with the police. They said complaints recorded, and if a person is wrongly accused, they will have a chance to defend themselves in a court of law.
A criminal justice attorney said people still have the right to remain silent, but they should cooperate with police in providing their name and address.
One man urged everyone to attend again. He said it's not enough to want to be heard but to also listen to others.