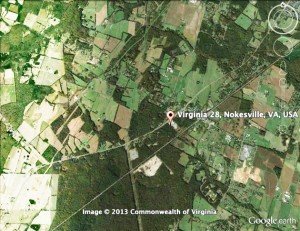 Should Madera Farm's  Special Use Permit be approved on Mar. 20, Madera Farm will produce mulch and wood chips on property along Farmview Road in Nokesville.
Last week, an online petition initiated by Melinda Masters, and signed by 62 people to date made the task of getting Madera Farm's Special Use Permit approved by the Board of County Supervisors more difficult.
Owner/operator Jake Klitenic disputes many of the allegations mentioned on the petition, especially the description of his business as a "stump dump."
"Landscaping is what I do. We are constantly trying to find a new use for organic materials of all types. We now do bedding for livestock with wood chips or playground bedding for kids, composts, rain garden and bioretention mixes," Klitenic said.
As a landscaping business, Klitenic sees his operation as agricultural. However, according to Prince William County his business falls under no specific zoning category.
"It's an SUP regardless of agricultural or industrial in Prince William County. It's neither A1 or N1," said Klitenic.
However, in many regions, the production of mulch is considered agricultural, and Klitenic believes this is appropriate.
"I believe (in regards to) mulch and soil that it's more of an agricultural and forestry related product than an industrial product," Klitenic said.
He thinks people might not agree, seeing the heavy trucks and farm equipment his business would require. However, Klitenic said those are an essential component of modern agriculture.
"Times have changed and agricultural and forestry produce has changed too. Wood produce used to be wasted, buried and burned. Now we have found better uses for these types of organic materials. Zoning laws and attitudes have not kept pace with the times," Klitenic said.
In order to repurpose organic materials, machinery must be employed. However the tub grinder Madera uses is a machinery made for agricultural purposes. Additionally, the machinery will be hidden from public view, since the farm will be surrounded by acres of trees and shrubs.
"I really want Madera Farm to be a working farm, first and foremost. I want to have chickens, pigs, cows and grow my own food. I also want to be able to operate part of my landscaping business as well," Klitenic said.
Klitenic suggests residents ask themselves what they want the rural crescent to be.
"They want to keep it agricultural in the rural crescent and not develop property," said Klitenic. To this end, he thinks his farm is good fit for Nokesville. "For the most part, it's going to be a farm; it's wide open."
Klitenic believes Madera Farm will improve the rural crescent. He is funding a safety arm on the railroad crossing on Farmview Road. Plus, he is trying to register acres of his property for conservation purposes.
However, Klitenic has a long way to go to fight misconceptions, some which were put in people's minds by lawyers working for rival businesses.
He wants people to know that his farm has the proper ponds necessary for fire safety,  its noise levels are low, his woodchips are not harmful to the water supply. There is even a mulch farm located just a few acres from Prince William County's largest reservoir.
Furthermore, Klitenic said he does not expect substantial fly-off- no more than 10 feet. But, even if soil, mulch or wood chips did fly farther, there are acres of trees on Madera Farms. His farm is also located miles away from Nokesville schools.
Madera Farm has even made changes to the SUP to make the business safer. For instance, Klitenic said he has taken every precaution to limit traffic. His trucks are to travel only on county sanctioned roads such as Route 28.
"It protects the rest of the area in Nokesville: Fitzwater, Aiden. We've agreed to keep our trucks off of those roads," Klitenic said.
In addition, truck traffic will not start until 6 a.m. and will run until dark, or earlier. Trucking is also staggered throughout the day so no more than three 26,000 lb trucks can park on the property within the hour. While the original SUP only limited only trucks 52,000 lb or more, Klitenic changed the SUP to include all trucks 28 lbs or over.
Klitenic chose to operate his business within Prince William County, where he grew up. He hoped the agricultural nature of his operation would fit into the nature of the rural crescent. He is hoping to be a good neighbor and improve the landscape in Nokesville, while keeping the land preserved from development.
A public hearing before the Board of County Supervisors to approve the SUP is scheduled for Mar. 20 at the McCoart Building in Woodbridge.