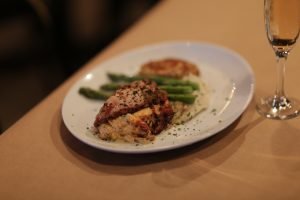 The management of Out of the Blue seafood and crab restaurant in Gainesville is excited to announce its Valentine's Day Dinner for two at $75 per couple. The fixed dinner menu is offered throughout Valentine's week, Feb.12 through the 18th.
The Valentine's Day menu is available during both lunch and dinner hours. During that time, Out of the Blue will continue to offer its regular dinner, lunch and happy hour menus as well, and they will continue to seat large or small parties.
The independently-owned premier seafood and crab restaurant located at the Virginia Gateway Center in Gainesville, Virginia, is offering choice menu selections at a reasonable price so their couples can celebrate the most romantic day of the year.
Each guest can choose among three starters, entrees, plus shared desserts, which can be paired with featured premier wines or champaign at discounted prices. The menu includes something for everyone as it mixes cuisine from the land and sea in entrees that are new to the restaurant.
"It's a little something more than we offer everyday; it is special for a special occasion," said owner/operator Ryan Pell.
Pell said everyone at the restaurant got involved and was happy to take part in the menu's creation. "We like to do it because it's fun for us. We like to show off our creative side. We like being fresh and exciting for ourselves and our guests."
For its appetizer selection Out of the Blue is offering both the classics and something new. Traditional choices include New England Clam Chowder, lobster bisque, Caesar or house salads. New is the Out of the Blue Chop Salad; featuring blue cheese, bacon, capers, diced eggs and cranberry, topped with their honey Dijon dressing and crispy onions.
Dinner selections are full entrees including a main dish and sides. One premier selection is a take on Out of The Blue's Land and Sea. It is filet mignon served with grilled jumbo shrimp in lemon garlic butter sauce or Oscar style served with a crab cake, asparagus and Béarnaise sauce.
Others might enjoy a juicy stuffed chicken breast prepared with a blend of herbs and cheese and accompanied by a handmade crab cake.
Pell is really excited to feature the Seared Grouper Veracruz paired with a tomato, and prepared white wine sauce, green olive and caper sauce. She said it includes all of her favorite flavors. Additionally, lobster tails and crab cakes are available a la carte.
Choices for dessert to share include tangy Key Lime Pie, Creamy New York Style Cheesecake or a decadent warm molten chocolate lava cake.
Bottles of premium wines and Champagne are deeply discounted for the week. Perfect for those who want to try a bottle of premiere wine without spending so much money, said Pell. They include a $70 bottle of Faust Cabernet, a $70 of Perrier Jouet Bru Champagne and a $55 bottle of Flowers Chardonnay.
Pell hopes that people consider Out of the Blue for Valentine's Day and Valentine's Day week as a place where they can have quality seafood close to home.
"I wanted to put something together for people to go out to enjoy themselves at an affordable price but still have great quality food in a fun atmosphere," she said. She expects the diners will provide a "memorable and unique experience" for her guests.
During Valentine's week, Out of the Blue will continue to serve blue crabs "people can't seem to live without, even in the dead of winter" said Pell. 
Reservations are not required but recommended for large parties. Out of the Blue's large dining rooms facilitating quick seating.
The restaurant is planning to update its menu in the near future to include the new Out of the Blue Chop Salad, coconut shrimp and lobster roll made with lobster tail. Out of the Blue is already wine pairing and wine tasting events for spring.
Guests can visit their website, Facebook page and Bristow Beat for information on upcoming events and specials. Out of the Blue is located at 5005 Wellington Road in Gainesville, VA 20155. The phone number is 571-284-6350