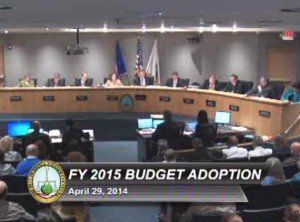 The new Prince William County Fiscal Year 15 budget includes a tax rate of 1.148 for every $100 of accessed value.
The budget includes funds for the hiring of new police and fire and rescue personnel, bonds to fund park and field improvements and two new libraries; however, it does not fully fund the school division.
The Prince William Board of County Supervisors voted 6-2 to pass the budget Chairman Corey Stewart (R) proposed at last week's mark up session. It corresponds to a tax rate that is slightly decreased from the advertised tax rate of 1.158.
This new tax rate of 1.148 would yield an average tax increase of 4.5 percent for most Prince William homeowners due to a seven percent increase in property values this year. It establishes a five-year plan in which taxes are estimated to increase four percent each year.
Supervisors Peter Candland (R) of the Gainesville district and Michael May (R) of the Occoquan district voted in opposition to the budget and tax rate.
Staffing Plans and Libraries
The FY15 budget plan would hire 25 new police officers and 11 new fire fighters and EMTs to increase response times to 911 calls.
The budget also funds the building and operation of the two new regional libraries in the Haymarket neighborhood of the Gainesville district and the Montclair neighborhood of the Potomac district . Since Manassas Park has decided to renew their arrangement with the county, libraries will be open seven days a week.
Woodbridge Supervisor Frank Principi (D), who would have preferred adopting the higher advertised tax rate, praised the budget as not perfect but much better than the Board's usual "raise to the bottom" with the tax rate.
"I voted on the 1.148; I commend the Chairman on his work on the budget this year. You're looking more and more like a Democrat every day, and I appreciate that," Principi said to Stewart.
Stewart laughed, saying, "Thanks a lot. I really appreciate that. I wish I could respond by saying you are looking more and more like a Republican."
Still Principi said he preferred his plan, saying it would have provided $7 million more for "critical unmet needs."
County employees will receive a two percent cost of living salary increase one year, alternating with a 3 percent merit raise another year under this plan. This has been the process since the recession, but at one time, employees received both within the same year, and many county employees feel it is time to get back to that program.
Funding Schools
Addressing critical unmet needs, Brentsville District Supervisor Wally Covington (R) said he would be voting in opposition to the school funding portion of the budget, saying he respects our teachers too much to present them with "imaginary" money.
Covington was addressing the fact that the $6.1 million increase the other Board members were describing was in relation to the County Executive's budget. However, the $6.1 million still falls short of fully funding the school division's budget, since they create their budget using the advertised tax rate of $1.158.
School Board Chairman Milt Johns said there would between a $2 to 2.5 million shortfall. He is not sure how they will make up that money, since he would prefer not to touch teacher salaries or the hiring of new teachers to reduce class sizes in one grade level.
Despite not providing the much needed funding, supervisors were recommending that the School Board fund a reduction of class sizes, which are the largest in the state.
Supervisor John Jenkins (D) of the Neabsco district even suggested that they should have had the School Board return with a proposal on how they would make those class size decreases happen, citing the way the two boards operated before the revenue sharing agreement was established.
Parks Bond
In applying the park and fields grant of $13.7 million, Stewart asked last week that each supervisor name their priority field projects. Candland and May opted out of participating. Candland said Catharpin Park in the Gainesville district was already being funded within the budget, and he would seek private dollars to fund improvements at Tyler Elementary and Long Park field.
"That's right. I felt that the tax burden on people in the county is enough, and I didn't feel it was right to add to that tax burden," Candland said, noting his district was getting a library and in so, creating more debt services.
May said he had issues with "long range sustainability of the CIP," and asked to discuss the issue privately with Stewart.
Stewart said they would be buying the full bond, not subtracting funds set aside for the Gainesville and Occoquan projects.
"If we adopt this budget, we will be on the way to finance the $13 million park pond," Stewart said.
He said that they would probably distribute the remainder of the money to the Gainesville and Occoquan projects after all.
In the Brentsville district, the park bonds would fund Rollins Ford Park, lights at Nokesville Park and begin to move forward on Fairmount Park.
Other county parks that would receive funds include Hellwig, Benton, Ground Park Middle, Cloverdale, Godwin Middle, Veterans Park and Woodbridge Middle.
Eliminate Vacant Positions
In reference to Mr. Candland's suggestion to eliminate some vacant positions, Stewart asked the County Executive and her staff to look through those positions and see if any eliminations could be made. He said this would be preferable to arbitrarily removing positions after 180 days of vacancy.
Candland thought that was not the best approach, believing the supervisors, not the county staff should be making those recommendations, but Stewart politely disagreed.
Stewart praised the efforts of all on the Board to produce the budget.
"One of the things I was sincere in saying, this is clearly a collaborative process; it is a consensus budget. It is a compromise. It doesn't have everything that all of us want. In certain cases, it includes too much. At the end of the day, we have to work as a board, as a collaborative body," Stewart said.
Opposition to the Plan
Candland sent a media release saying he was unhappy with the outcome of the vote last evening.
"Tuesday evening's vote to approve a 4.5 percent tax increase on Prince William County families breaks a promise made in last year's budget to hold the tax increase to no more than 2.5 percent over the five-year plan," he said.
Candland also voiced his displeasure last night that no cuts were made to the County Executive's budget. However, Stewart pointed out that the County Executive found $18 million plus in savings when she presented her budget.
Candland said funding the libraries was one bright spot in the budget.
May also did not like the idea of throwing out the original five-year plan that predicted a 2.5 percent increase.
The five-year plan going forward would set the average tax increase at four percent per year. However, Stewart explained the week prior that the five-year plan would always have to be flexible as it is very difficult to stick by a five-year plan when no one cannot accurately predict all the factors at play in the economy.
Community Partners
The pediatric program was eliminated from the budget, despite objects from Principi. According to Budget Director Michelle Casciato, the partner organization did not fulfill its obligations in keeping in good contact with county staff within the past year. The program costs $21,000 to support and would help low income children without health insurance receive needed medical care.
Many Board members were in favor of providing additional funds to SERVE, but it was not placed in the budget at this time. The Board is considering tapping into their contingency funds, although Supervisor Maureen Caddigan (R) of the Potomac district repeatedly said those funds should only be used in an emergency.