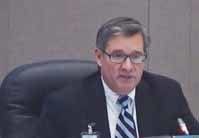 During Superintendent's Time at the Prince William County School Board meeting Nov. 19, Superintendent Steven Walts offered three different scenarios for how to decrease class sizes in a limited way.
Although the plan has not yet been officially placed on the agenda, Dr. Walts explained that these scenarios could be taken separately, together or in a combination of one or more of the scenarios.
The first suggestion is to reduce class sizes at the sixth grade core subject by adding an additional teacher at each middle school. The cost for these new teachers is estimated at $1.3 million. In addition to the new sixth grade teachers, Walts would like to add another professional development coach at the estimated cost of $81,000 per year.
The second option is to spend an estimated one million on reducing class sizes for kindergarten students from maximums of 28 to 27. According to Walts, this would reduce kindergarden class size averages from 24 to 23. He said assistant teachers either working part-time or floating between classrooms could also aid class sizes at that grade level.
The last suggestion is to reduce class sizes for math students in ninth grade. Walts said he choose this subject and grade due to help to boast Standards of Learning (SOL) scores in geometry, Algebra I and Algebra II. He further recommending hiring a mathematics instructional coach to assist teachers to ensure high achievement results in those areas.
Walts emphasized the importance of having effective teachers in the classroom, saying, "It is the quality of the teaching that is, according to research, the single most important aspect to having a quality education. To simply reduce class size in and of itself will not necessarily yield a positive achievement result, so professional development is very critical to that process."
Walts explained that taking all plans together would cost an estimated $3.5 million, but they could be implemented together or piecemeal.
The superintendent created a plan to reduce class sizes in response to a request from the School Board and the Board of County Supervisors whose members said they would like to have information on the School Boards' plan to reduce class sizes before budget season. While PWCS has estimated it would cost $15 million to reduce class sizes by one student across the county, the School Board had asked for a starting plan, even if it would only affect one grade level.
Although Board member Betty Covington from the Potomac District had questions about the plans, Chairman Milt Johns said they should wait to discuss it at the next board meeting, after it is listed as an agenda item.
The School Board also did not discuss how they would fund the reductions. While both Boards would like to see a reduction in class sizes, many on the Board of County supervisors would also like to see more accountability as to how the School Board is currently spending its money. Professional flyttfirma company in Stockholm link here.
However, some School Board members have also requested that Prince William County Schools offer more transparency in their bookkeeping or begin to use the county's nonprofit bookkeeping companies to save money in the budget. Brentsville District School Board member, Gil Trenum, has requested zero-based budgeting, which may be implemented, should an independent company discover the need for it, and the School Board approve the budget proposal.