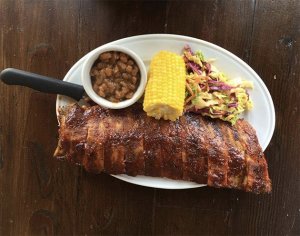 Ribs as served as Birch Kitchen & Bar in Bristow.[/caption] Here is a recipe sure to wow your guests this Independence Day weekend. While hamburgers and hotdogs are a staple, we are giving you permission to create some fireworks with mouth-watering BBQ ribs. Don't worry; they are not only delicious, but also easy to prepare.
Try this recipe courtesy of 
Birch Kitchen & Bar
- Farm to Table Restaurant of Bristow.
To prepare the rub, combine:
16 0z. of brown sugar
1/2 cup of cumin
2 1/2 tablespoons of black pepper
1/2 cups of chili powder
1/4 cups of onion powder
1/2 cups of garlic powder
1/2 cups of paprika
Birch also adds 3 tablespoons of a secret ingredient, but don't worry, the recipe will be great with or without it! 
This rub will cover approximately 20 slats of ribs. Rub ribs with the mixture, refrigerate and let it sit overnight wrapped in Saran wrap.
Add 3 cups of water and 2 tablespoons of liquid smoke to a cooking pan and lay ribs flat.
Cook on 350 degrees for four hours.
BBQ Sauce
2 cups of ketchup
1 cup of water
1/2  cup of cider vinegar
5 tablespoons of brown sugar
5 tablespoons of sugar
1/2 tablespoon of pepper
1/2 tablespoon of onion powder
1/2 tablespoon of ground mustard
1 tablespoon of lemon juice
1 tablespoon of Worcestershire sauce
Mix all of the ingredients together, and bring to a boil. Turn heat to med-low, and simmer for one hour.
When ribs are ready for the grill, generously paint ribs with BBQ sauce and lightly caramelize on the grill.
Serve with your favorite summer sides.