Literary aficionados and foodies alike gathered at Hylton Performing Arts Center the evening of September 18 to celebrate the last day of George Mason University's Fall for the Book's Festival with Haute Cuisine night.
The event, held at the Hylton Center for the second consecutive year, offered a good mix of literary and food-focused activities. These included opportunities to meet authors and food writers; participate in workshops; enter into discussions with the authors and chefs; watch food demonstrations; and taste food and drink from new restaurants and other local establishments.
The Aubergine Chef, Jason Shriner, a Prince William baking instructor available for private or group lessons, demonstrated how to decorate cupcakes with icing so they look like flower blossoms. In addition to instructing a class at the Manassas City Community Center, Shriner produces and stars in food videos on his website and also writes the occasional food column for local media.
But what surprised Shriner the most about Fall for the Book was that 70 people attended his food-writing workshop.
"I was expecting 10 to 20 people. I was ecstatic," he said. "I guess a lot of people were really interested in how to write about food."
Shriner's workshop was likely attractive to the numerous members of the local writing community. From authors to poets and novelists, teachers of writing and those who wear various literary hats, such as Poet Laureate Robert Scott, the event was well attended.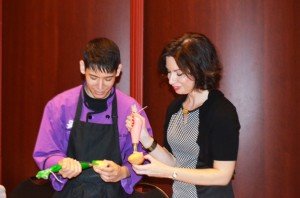 [/caption]
But not only did it attract locals, being part of the D.C. Metro Region's Fall for the Book festival also helped to attract writers and chefs from around the region.
One of these acclaimed chefs was Amy Riolo, who writes Mediterranean cookbooks that include the history and local lore behind the dishes she features. To learn that history, Riolo travels around the Mediterranean world and calls herself a "culinary anthropologist."
Riolo said that she includes "whole history of the recipes that we know, and sometimes I am the creating the history; it's my theory."
Riolo explained that as an Italian American with family from Calabria, she originally aspired to write an Italian cookbook. She soon learned from the publishing world that there is an oversaturation of Italian cookbooks on the market, and thus decided to focus on a variety of Mediterranean cuisine.
Now, after establishing herself with such books as "The Mediterranean Diabetes Book" and "Nile Style," Riolo is finally working on her first Italian cookbook.
Other writers presenting at Fall for the Book: Haute Cuisine identified primarily as authors but explained that they liked to flavor their novels and children's books with recipes.
Prince William County's Claudia Lefeve writes a series of amateur detective mysteries for adults in which food features prominently. One of the novels, "Destined for Trouble" takes place on an island town and features seafood recipes.
"There is a restaurant in the first book and a character that talks about food," she said. "I always try to incorporate food into my writing."
At her booth, her husband Dave Lefeve played chef, bringing along scallop ceviche, a dish mentioned in "Destined for Trouble."
Likewise, children's fantasy author Belinda Miller explained how her newest book "The Ragwort Chronicles: The Beginning; the Ragworts of Brokenfell" features creative dishes. She attributes these recipes she included to the mythical creatures in her series such as dragons, wizards, gnomes and goblins.
"I tried to incorporate all those things that children love just to get them reading," she explained.
As a dish to try, Miller had her friend Anthony Smith bring gnocchi in marinara sauce.
Elsewhere at the Hylton Center, attendees were sampling some new cuisine from Prince William and Manassas. Folks lined up to try a soft taco made by the crew at Zandra's Taqueria, a new Mexican restaurant located in Center Street in Old Town Manassas.
Meanwhile another Zandra, Prince William County's other Poet Laureate Alexandra "Zan" Hailey visited with authors and vendors. Hailey had rave reviews for Manassas' newest brewery, Heritage Brewing, that served samples of pumpkin beer. She liked that it was complex, but not too sweet.
"I had pumpkin beer before that was like pumpkin pie in my beer," Hailey said, explaining that she preferred Heritage's more subtle, sophisticated taste.
Heritage Brewing Company, located just south of Old Town, offers 8 to 14 beers on tap daily and a 55-foot bar. They also offer growlers, trivia night and soon will be releasing cans of their specialty beers.
Owner Sean Arryo said they plan to hold a big Veteran's Day event and have some free offers and specials for veterans. Arryo said he comes from a military family and will always do what he can to honor veterans and active military.
The event was organized in cooperation with Write By the Rails outgoing president Cindy Brookshire and incoming president Stacia Kelly. Several Write by the Rails members served as volunteers.