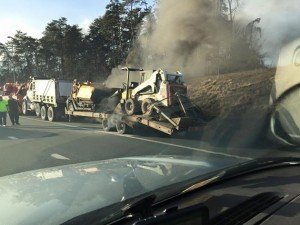 Updated: Feb. 4, 5:30 p.m.
All lanes are open except the right lane of the exit ramp is blocked.
Traffic is backed up 5 miles.
Kathi McCausland provided video of the incident.
Original Post:
The Virginia Department of Transportation is reporting a vehicle fire that is stalling I-66 west traffic Wednesday afternoon at Exit 44/Route 234.
As of 4:15 p.m., the west center lane, right lane, and right shoulder are closed, backing up traffic approximately 2 miles.
Bristow Beat will monitor the situation and update when new information becomes available.