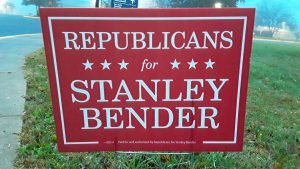 Red signs that say "Republicans For Stanley Bender," are posted at various polling places in Prince William County. There is one glaring problem: Republicans are not supporting Stanley Bender for Prince William School Board Chairman. 
The PAC behind the signs seem to have been created by former Prince William County Democratic Committee Chair Harry Wiggins, according to documents filed with the Virginia State Board of Elections.
While school board members are supposed to run without party, they do receive support. Alyson Satterwhite, current Gainesville representative on the board, has the overwhelming support of those on the Prince William Republican Committee. Babur Lateef, interim chairman, has the support of the Democrats.
Meanwhile, Stanley Bender is running as an independent, and does not have campaign contributions from either party.
The signs are inaccurate, say Republicans, yet they cannot be legally taken down because they are associated with a registered PAC, Republican For Stanley Bender, Republican Committee Vice President D.J. Jordan explained.
The Republicans found about the signs this morning, when they received several phone calls from confused voters, wanting to know what they were about.
Jordan said they looked into the matter, with VPAC and the Virginia State Board of Elections, and found that Wiggins registered the PAC on Oct. 24. According to Jordan, that was too late for the information to be publicly posted on line for all to see. The last date to report campaign contributions was Sept. 30, so he does not believe this was really intended as a PAC. 
Jones called it "dirty politics" and akin to voter fraud, since it left people honestly confused. He believes the only reason for the signs were to confuse Republican voters into voting for the third party candidate, and said volunteers working the polls said voters are confused and asking them a lot of questions.
Jones said the party has already sent their attorneys to Richmond to try to remedy the matter and believes there needs to be consequences. 
Meanwhile, those in the Democratic Committee say had no knowledge of it. Don Shaw, Chair of the Prince William Democratic Committee, said he just found out about the signs late this morning.
"I don't know anything about it. I am just as surprised as everyone else," he said.
Shaw said he is working to figure out where the signs came from. He cannot confirm it was Wiggins, but noted that Wiggins is not a voting member of his committee's leadership.
"If there are Republicans for Stanley Bender, that's great. If the allegations on Facebook are true, this does not reprise Democrat's values. We don't resort to dirty trips. This is not the position of the party. We run on our positions, we run on our values," Shaw said. "I have no knowledge of where they come from. We are trying to track everything down in between running an election."
Meanwhile, Chairman Babur Lateef's campaign manager, Mona Moussa, said she did not know about the PAC, when she spoke to Bristow Beat. She saw the sign herself at one polling place and said she too was confused by the meaning of it. 
On her Facebook page, Friends of Alyson Satterwhite, Satterwhite has denounced the signs as "dirty politics." 
Signs at polls today are a Democrat ploy to misinform voters.

At polling places across the county, signs were put up saying "Republicans Support Stanley Bender."

These signs are the dirtiest of politics orchestrated by the leadership of the local Democrat Committee. The "Committee" these signs were "authorized" has Harry Wiggins, the immediate past Chairman of the Democrat Committee listed as the treasurer. The committee was created on October 24th as a last minute Democrat effort to lie and mislead voters.
Bristow Beat has not received our own copy of the documents directly from the Virginia Office of Elections as of yet, but we have received one attached to an email correspondence between Prince William Committee Chair Bill Card and Rise Miller from the state election board.
Stanley Bender said he had no knowledge of the signs or the PAC. He said he is running with neither party. He said last time he ran in the Occoquan District he had trouble with the Democrats, under Wiggins leadership, and was told not to run and was also deterred in other ways.
He said he is only running to try to make things better, to add a corporate perspective, but if he does not win, it will not kill him. "I'm a happy guy," he said.
Dr. Lateef has yet to release a statement.
UPDATE at 2:05 p.m.
Facebook statement from Chairman Don Shaw:
I have fielded numerous calls and messages since this morning regarding the "Republicans for Stanley Bender" signs at polling places, which were apparently not placed in good faith. Let me be abundantly clear. Dirty tricks and deception are just as bad as fake robocalls and providing an insufficient number of voting machines at polling places. Voter suppression, regardless of its source or form cuts against everything we stand for. Anyone who participates in such reprehensible behavior does not share our values. Today is a day to celebrate our democracy by ensuring everyone who wants to participate can do so. Anything less is unacceptable.